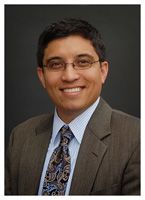 Dr. Daniel V. Santos
Dr. Daniel V. Santos is a native of Baltimore. He went to Loyola Blakefield and then received his BS at the University of Richmond. He graduated with honors from the Medical College of Virginia and then completed his Otolaryngology-Head and Neck Surgery residency and chief residency at the Virginia Commonwealth University Medical Center.
He practices the full spectrum of ENT and has special interests in pediatrics, voice complaints, sinusitis and head and neck surgery. He lives in Homeland with his wife, Susan and their three children. He enjoys golf, skiing and spending time with his family.