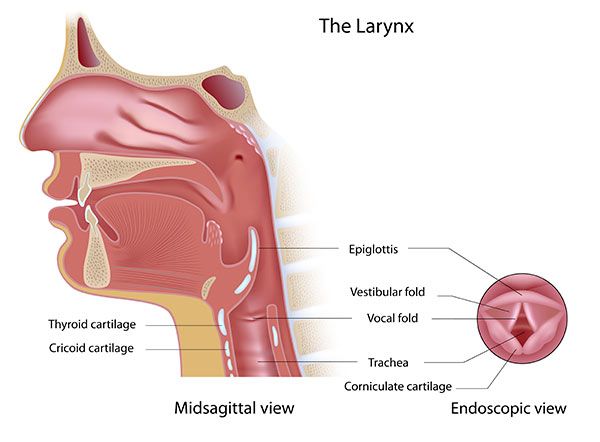 Understanding Laryngoscopy
The sensitive muscular organ that comprises the voice box is particularly vulnerable to injury and irritation. When the vocal cords are strained, individuals can develop the voice-impeding condition known as laryngitis. If you have a sore throat, frequent coughing, or other problem associated with the throat, one of our Baltimore, MD, doctors may recommend that you undergo a laryngoscopy. This straightforward procedure can help our doctors quickly diagnose the cause of your larynx problems. Once our doctors have completed your laryngoscopy, we can prescribe effective treatment. For more than 25 years, Chesapeake Ear Nose & Throat has been Baltimore's most trusted ear, nose, and throat (ENT) medical practice.
Reasons You May Need a Laryngoscopy
Often, undesirable symptoms of laryngitis or other throat-related ailment motivates patients to seek relief at our Baltimore office. Coughing, hoarseness, or a sore throat are just a few of the symptoms that we can treat.
Laryngoscopy can be a beneficial diagnostic tool if you:
Have difficulty breathing
Have trouble swallowing
Have a foreign object stuck in your throat
Need to remove a foreign growth
Are suffering from a lingering earache
Are concerned that you have a serious underlying health problem
A Look At The Procedure
Laryngoscopy is typically completed in conjunction with other examinations, such as a physical exam or x-ray. There are multiple ways that laryngoscopy can be performed. The most common form makes use of an endoscope. The thin and tubular instrument is illuminated to allow the doctor to clearly see your larynx and surrounding tissue.
Laryngoscopy is typically performed while you are sedated. Anesthesia may be used to reduce the likelihood that you will experience a gag reflex. The endoscope is inserted through your nose or mouth and carefully guided toward your larynx. The procedure can take anywhere from several minutes to 45 minutes.
Early diagnosis leads to better health outcomes while preventing the need for more invasive treatments down the road.
Complications associated with this procedure are rare. If sedation or anesthesia is used, you may feel nauseated or sleepy afterward. If you have trouble breathing or experience any bleeding upon returning home, let one of our doctors know immediately.
Benefits of Laryngoscopy
A laryngoscopy gives our Baltimore doctors a direct view of your larynx. Most problems associated with your voice box can be quickly and accurately diagnosed using visual examination. While advances in imaging have created important diagnostic tools for our doctors, a direct visual examination is still the most reliable tool for accurately diagnosing the cause of your larynx-related problems. By undergoing this straightforward procedure, you can benefit from early detection of cysts, lesions, and other problems. Early diagnosis leads to better health outcomes while preventing the need for more invasive treatments down the road.
Schedule Your Visit Today
If you have noticed a change in the quality of your voice or experienced symptoms such as difficulty breathing or swallowing, you may have a condition that requires prompt treatment. A simple examination, and possibly the use of laryngoscopy, can prevent irreversible damage to your larynx. To schedule your appointment, contact our office online or call (410) 356-2626.
"I received excellent care at Chesapeake ENT. Their prompt response and cheerful attitudes made for a wonderful experience. All of the audiologists were very helpful. Especially Dr. Laura Toll, her knowledge of hearing aids and the new technology offered made for an easy decision."
★★★★★
- Tanya
"Was very knowledgeable and helpful."
★★★★★
- Saafir
"Very courteous and on time."
★★★★☆
- Pauline